Mazda Miata Hooks Up With Fashion Rocks
Friday, August 1, 2014
Share this article: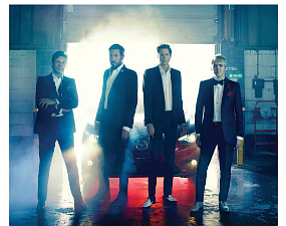 Mazda North American Operations in Irvine has launched "Road to Fashion Rocks," a six-week TV, print and digital marketing campaign promoting soon-to-be released 2016 MX-5 Miata.
The campaign touts the automaker as the "exclusive automotive partner" of Fashion Rocks show, which will air Sept. 9 on CBS. The show, produced by Three Lions Entertainment and Don Mischer Productions, will feature Ryan Seacrest as host, with performances by Afrojack, Duran Duran, Jennifer Lopez, Usher, Kiss, Miranda Lambert and Nico & Vinz among others.
Mazda's Vice President of Marketing Russell Wager said he asked Garage Team Mazda in Costa Mesa for marketing ideas that involved music and would fit with the perception of Miata as an "iconic vehicle" whose "style has not gone out favour."
"They came to us with [Fashion Rocks] and said 'Here is something that's during [New York] Fashion Week, it's with musicians and it's a great way to demonstrate the beauty of the car,'" Wager said. "It made perfect sense."
The digital portion of the campaign is focused on FashionRocksLive.com/The-Road website, which features video interviews with Fashion Rock artists, and several vehicles, such as the Mazda 6, Mazda 3 and an older model of the MX-5 Miata.

Three Lions Entertainment created the videos with the help from Garage Team Mazda, who made sure the final products "fit within our brand tone," Wager said.
The agency also developed an eight-page print ad featuring the Fashion Rocks musicians and Mazda vehicles, which will be distributed with the September issue of InStyle magazine to 1.5 million subscribers.
"The back of that insert has a covered car," Wager said. "You can't see it but you know that it's a convertible, so it's kind of teasing that–—if you want to see the next generation MX-5 Miata, then watch the program."
The roadster will be revealed directly to consumers during a concert by a yet-to-be-named Fashion Rocks artist on Sept. 3 in Monterey. The launch will be simultaneously hosted in Barcelona, Spain and Urayasu, Japan, and streamed live on YouTube.
The marketing budget is "substantially more than the last time we launched the MX-5," Wager said, "but it will be comparable to some of our recent vehicle launches."