Retail Roundup: Zov's Set for Anaheim, Taps Founder Busy
Wednesday, April 30, 2014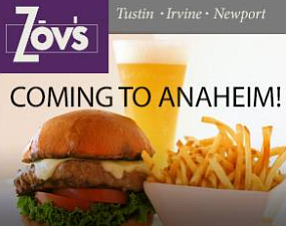 Tustin-based Zov's is set to open a 4,000-square-foot-restaurant in Anaheim this summer.
The company currently operates four restaurants, in Tustin, Newport Coast, Irvine and at John Wayne Airport, serving food that blends Mediterranean, Middle Eastern and Armenian fare.
"We're really drawn to Anaheim because, in our eyes, it's the hub of Orange County," said Chief Executive Armen Karamardian. "It's that central portion of the County that has so much energy."
Karamardian is the son of founder Zov Karamardian. He said the company had been scouting a new location for about a year before signing the deal.
Armen said he could see the concept expanding into South County to build on its local following but added that no additional sites after Anaheim have been identified for another restaurant.
• Taps Fish House & Brewery founder Joe Manzella is also busy. He's working with Charlie McKenna, the founder of Lillie's Q, on a fourth restaurant for the barbeque concept. The restaurant, set for a late summer opening, will be in downtown Brea.
Manzella, who is also founder of The Catch Restaurant in Anaheim, is also set to expand Taps with a 10,000-square-foot third location at The Market Place in Irvine early next year.
• Fans of juicing will have another option when Ritual Wellness opens its third Ritual JuiceBox in Laguna Beach on Friday.

• Recent openings in the county include a remodeled Valentino at South Coast Plaza, Saddle Ranch Chop House at The Outlets at Orange, Keihl's at the Brea Mall and Windsor Fashions at the Westminster Mall.