Taco Bell Q1 Sales Flat
Wednesday, April 23, 2014
Share this article: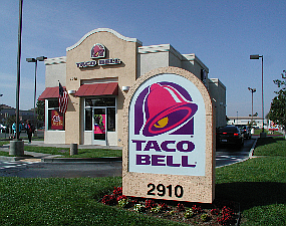 Sales for Irvine-based Taco Bell Corp. were flat for the quarter ended March 22.
The company, which includes nearly 6,000 U.S. restaurants and about 300 outside the U.S., recorded a 1% same-store sales decline, according to its parent Yum! Brands Inc. of Louisville, Ky.

Yum! went on to say in an announcement released after market close on Tuesday that the decline was balanced by revenue from new stores.
The Taco Bell division had total revenue of $391 million for the March quarter, down about 11% from a year earlier.
The company's operating profit was off about 16% from a year earlier to $84 million.
Yum!'s companywide results for the March quarter included a 7% increase in sales to $2.7 billion, and a 21% jump in profit to $396.7.
It was the first quarterly report for the realigned Taco Bell division of Yum, which consolidated its KFC, Pizza Hut and Taco Bell international and U.S. businesses at the start of the year in an effort to globalize strategies for each brand. Yum!'s China and India businesses continue to operate as their own divisions at the company.
Yum! shares were up about 4% in extended trading Tuesday to a market value of $34.32 billion.