Blizzcon 2014 Date Set
Wednesday, April 23, 2014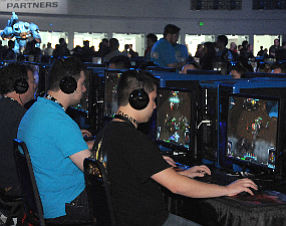 Irvine-based video game maker Blizzard Entertainment will hold its annual fanfest November 7 and 8 at the Anaheim Convention Center.
BlizzCon, which draws some 20,000 attendees annually from around the world, typically sells out within minutes.
Tickets for the 2014 event will go on sale in two rounds, starting May 7 at 7 p.m. The other drawing will start at 10 a.m. May 10 through the online event ticketing service Eventbrite.
General admission tickets cost $199, plus taxes and fees. A limited number of tickets to an exclusive pre-BlizzCon benefit dinner will go on sale for $750 each May 14 at 7 p.m.
The proceeds will benefit Children's Hospital of Orange County.
The event is not a money maker, according to the company, but is seen as an important marketing showcase for new products, often with top-flight entertainment on the schedule.
Southern California punk band Blink 182 closed out last year's convention, which drew fans dressed in elaborate costumes and body paint from the company's legion of successful franchises.
Blizzard used last year's event to announce the next installment of the World of Warcraft series. The fifth expansion, "Warlords of Draenor," sends players back to familiar lands inhabited by characters from the game's early history after its 1994 "Warcraft: Orcs & Humans" debut.
Blizzard, a unit of Santa Monica-based Activision Blizzard Inc., is Orange County's largest software maker with 1,900 local employees through March and revenue of $1.12 billion last year.