Midday Stock Roundup
Wednesday, April 16, 2014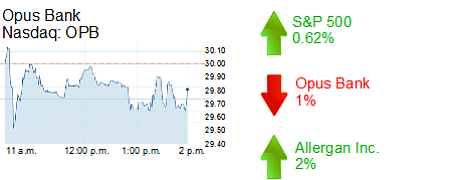 The S&P 500 rose 0.62% to 1,854.33 in afternoon trading Wednesday.
The Dow Jones Industrial Average was up 0.69% to 16,374.66, while the Nasdaq was up 0.70% to 4,062.57.
The yield on a 10-year Treasury bond rose 0.49% to 2.64%.
The price of gold was up 0.15% to $1,302.20 per ounce.
FINANCE
Irvine-based bank Opus Bank went public today, and its shares were down about 1.23% to $29.63 on the Nasdaq.
HEALTHCARE
Irvine-based drug maker Allergan Inc. was up about 2% to $130.18 for a market value of $38.85 billion.
TECHNOLOGY
Costa Mesa printed circuit board maker TTM Technologies Inc. fell back about 3% to $7.86, after closing up about 5% on Tuesday. TTM had a recent market value of $649.78 million.