Diablo III Expansion Sells 2.7M Units
Thursday, April 3, 2014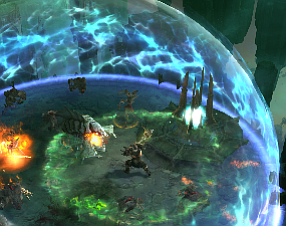 The newest title of Blizzard Entertainment Inc.'s popular Diablo franchise has sold more than 2.7 copies since its March 24 release.
The expansion set, "Diablo III: Reaper of Souls," available on Windows PCs and Mac computers, has raked in more than $108 million in sales in less than two weeks. The game costs $39.99 for a standard edition and $59.99 for a deluxe version that includes story art, decals and added weaponry, guides and characters.
Reaper of Souls continues the Diablo III storyline with a new twist, taking players from the legendary city of Westmarch to the Pandemonium Fortress, and culminating in a battle with the Angel of Death Malthael.
The latest version rekindles the darker, Gothic side of prior Diablo releases that many loyal fans wanted back, according to Diablo III Production Director John Hight.
"We're really going after that," he said. "The music is a bit creepier and harkens back to the original Diablo II that has the scary undertones to it."
The new title adds a Crusader class to Diablo III's roster of heroes, increases the game's levels from 60 to 70, and imbues the original five hero classes with several new powerful spells and abilities.
It also includes a new game mode that allows players to choose their own paths, a bounty system that awards gold and experience, and a new artisan who provides gear-customization options.
The hot sales of Reaper of Souls build on the success of Diablo III, which broke the record for the fastest-selling PC game in its first 24 hours on the market, selling 3.5 million copies in May 2012.
Diablo III now has more than 13 million active players engaged in the online role-playing game, Hight said.
The company, in typical Blizzard fashion, celebrated the game launch with events around the world, including in Los Angeles, Seoul, Taipei, Warsaw and Stockholm.
"Diablo III: Reaper of Souls" is available in retail stores throughout the U.S., Canada, Europe, South Korea, Australia, New Zealand, Southeast Asia, Taiwan, Hong Kong, and Macau. The expansion will launch in Russia and its commonwealths, as well as in Mexico, Chile and Brazil, on April 15
Irvine-based Blizzard, the largest software maker in Orange County, is a unit of Activision Blizzard Inc. in Santa Monica.
Shares of Activision were down 2.1% in late afternoon trading to a market value of about $14.46 billion.