Quiksilver, Kelly Slater End Partnership
Tuesday, April 1, 2014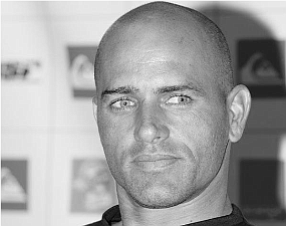 Huntington Beach-based Quiksilver Inc. said it is ending its partnership with professional surfer Kelly Slater.
The announcement, effective Tuesday, ends a 23-year relationship with the company that included a sponsorship deal and clothing collaborations on the now-defunct VSTR line, among others.
Quiksilver founder Bob McKnight, now executive chairman of the company, signed Slater when the surfer was 18.
The company said in a news release that "Slater's influence will be seen in Quiksilver's upcoming partnership" with Greensboro, N.C.-based Unifi Inc., maker of the Repreve recycled fabric.
Slater posted on his Facebook page late Monday night a note of thanks to Quiksilver and wrote that he is now working on a brand that "combines my love of clean living, responsibility and style" with Paris-based luxury clothing and accessories company Kering.
Kering's brand portfolio includes locals such as Costa Mesa-based Volcom Inc. and Electric of San Clemente, along with Gucci, Bottega Veneta and Balenciaga among others.