Hobie Alter: Surfboard Shaper, Innovator
Tuesday, April 1, 2014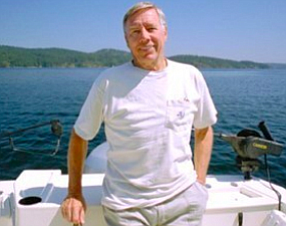 Hobart "Hobie" Alter, whose innovative surfboards and sailboats made him a legend in the surf industry, died on Saturday at the age of 80.
Alter was born in Ontario and his passion for water sports developed in Laguna Beach, where his family had a summer home. He died "peacefully" at his Palm Desert home, according to a statement posted on the website for the brand he made famous.
Alter handmade his first surfboard out of balsawood in 1950 in his family's garage. He opened a surf shop in Dana Point in 1954. When balsawood became harder to obtain, he and friend Gordon Clark, developed a foam surfboard.
Alter is also known for the Hobie Cat sailboat and other catamaran designs, the Hobie Hawk remote-controlled glider, and the Hobie Super Surfer skateboard.
Alter's innovations made the name Hobie synonymous with water sports, and Alter is seen as one of the pioneers of the surf industry.
He was awarded the Waterman Achievement award in 1993 by the Surf Industry Manufacturers Association, and was inducted into the Huntington Beach Surfing Walk of Fame, in 1997. In 2011 he was made an inaugural member of the National Sailing Hall of Fame.
Alter is survived by his wife Susan; sisters Carolyn and Lillian; his daughter Paula and her partner Ian; son Hobie Jr. and his wife Stephanie; son Jeff and his wife Laurie; grandchildren Cortnie and husband Dylan, Brittany, Scotty, Cody, Ashlyn, Tyler, Noelle and Justin; and great-granddaughter Serena.