REAL ESTATE: 720-UNIT FIRST PHASE OPENS, NEXT 1,000 IN WORKS
Small-Town Feel, Big-Time Ambition on Great Park Homes
Sunday, September 29, 2013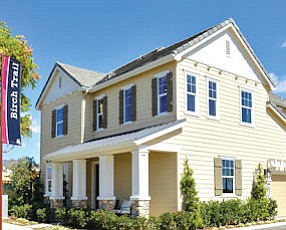 The developer of the Great Park Neighborhoods in Irvine is looking to add a small-town spin to Orange County's biggest new home development in years.
"We wanted to create the type of community you would have seen 40 years ago," said Emile Haddad, chief executive of Aliso Viejo-based FivePoint Communities.
In the case of Pavilion Park— the 720-home first phase of residential development at the Great Park Neighborhoods—that means classic American Heritage architecture, large yards, front porches, backyard swimming pools, abundant bike paths, and no access gates at the front of the community.
"We want to connect neighbors to one another," Haddad said.
The end product is a development designed to stand apart from communities in Irvine that have been overseen by Newport beach-based Irvine Company—while still fitting in with the overall feel of the masterplanned city.
"We want to measure up to (Irvine's) quality but give people something a little bit different," Haddad said.
Last weekend's grand opening of Pavilion Park on land stretching between Portola Parkway and Irvine Boulevard next to the Eastern (133) Toll Road will test the amount of buyer interest for a different product type in Irvine's already busy new-home market.
Thousands of homes are currently under construction or under development in Irvine, which has been California's fastest-growing large city for several years running.
Haddad said last week that he expects the homes slated for construction at Pavilion Park to sell out in one or two years.
The second phase of residential development at the 3,700-acre Great Park Neighborhoods, totaling about 1,000 homes, would follow shortly.
Grading on that portion of land between Trabuco Road and Irvine Boulevard is currently under way. The master developer expects to begin second-phase land sales to homebuilders next year.
"When we go, we go," Haddad said.
31 Models
Pavilion Park is a decidedly ambitious project, despite the small-town feel, with 31 models open for display and eight different builders selling homes. The recent kickoff is believed to be the largest grand opening for a home development in the country this year in terms of home models and builders.
More than 1,000 workers have been building the project over the past month, according to Haddad.
Hundreds were involved in putting the finishing touches on many aspects of the community as of late last week.
Homes about run from a little more than $700,000 to $1.5 million and range from 1,700 square feet to more than 4,000. The first homebuyers are expected to move in by November.
Prev Next