Small-Town Feel, Big-Time Ambition on Great Park Homes
REAL ESTATE: 720-UNIT FIRST PHASE OPENS, NEXT 1,000 IN WORKS
Sunday, September 29, 2013
Share this article: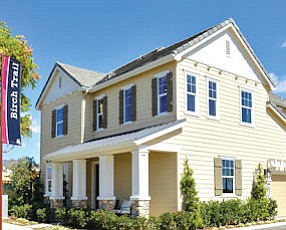 The developer of the Great Park Neighborhoods in Irvine is looking to add a small-town spin to Orange County's biggest new home development in years.
"We wanted to create the type of community you would have seen 40 years ago," said Emile Haddad, chief executive of Aliso Viejo-based FivePoint Communities.
In the case of Pavilion Park— the 720-home first phase of residential development at the Great Park Neighborhoods—that means classic American Heritage architecture, large yards, front porches, backyard swimming pools, abundant bike paths, and no access gates at the front of the community.
"We want to connect neighbors to one another," Haddad said.
The end product is a development designed to stand apart from communities in Irvine that have been overseen by Newport beach-based Irvine Company—while still fitting in with the overall feel of the masterplanned city.
"We want to measure up to (Irvine's) quality but give people something a little bit different," Haddad said.
Last weekend's grand opening of Pavilion Park on land stretching between Portola Parkway and Irvine Boulevard next to the Eastern (133) Toll Road will test the amount of buyer interest for a different product type in Irvine's already busy new-home market.
Thousands of homes are currently under construction or under development in Irvine, which has been California's fastest-growing large city for several years running.
Haddad said last week that he expects the homes slated for construction at Pavilion Park to sell out in one or two years.
The second phase of residential development at the 3,700-acre Great Park Neighborhoods, totaling about 1,000 homes, would follow shortly.
Grading on that portion of land between Trabuco Road and Irvine Boulevard is currently under way. The master developer expects to begin second-phase land sales to homebuilders next year.
"When we go, we go," Haddad said.
31 Models
Pavilion Park is a decidedly ambitious project, despite the small-town feel, with 31 models open for display and eight different builders selling homes. The recent kickoff is believed to be the largest grand opening for a home development in the country this year in terms of home models and builders.
More than 1,000 workers have been building the project over the past month, according to Haddad.
Hundreds were involved in putting the finishing touches on many aspects of the community as of late last week.
Homes about run from a little more than $700,000 to $1.5 million and range from 1,700 square feet to more than 4,000. The first homebuyers are expected to move in by November.
Transition Point
It's taken nearly eight years to get to the starting point for home sales on the Irvine land that once held the El Toro Marine Corps Air Station.
Haddad—then the chief investment officer for Miami-based Lennar Corp.—led the $1 billion purchase of the land from the Navy in 2005.
He now oversees the project for FivePoint, which split off from Lennar in 2009. Lennar, which has three home collections for sale at Pavilion Park, remains a large investor in the project.
The project's development has seen its share of challenges and delays stemming from the housing downturn and subsequent recession, most notably the 2008 bankruptcy of the project's main financier, Lehman Brothers Holdings Inc.
Recapitalization
Haddad oversaw a recapitalization of the project in late 2010. Investors now include Rockpoint Group LLC; Michael Dell's MSD Capital LP, California State Teachers' Retirement System, Stanford University, Oregon Public Employees' Retirement Fund and New York State Teachers' Retirement System.

"A lot of people didn't think we'd make it to this point," Haddad said. "This is a moment of transition from a base to a community—we've turned the page."
The next chapter for FivePoint and Haddad appears to be working out an acceptable deal with the city of Irvine to fund development of the city's 1,347-acre Orange County Great Park, which is largely surrounded by the Great Park Neighborhoods.
The city's options for funding its portion of the former marine base dried up in 2011 when the state eliminated the state's long-standing redevelopment agencies. That eliminated $1.4 billion in tax financing that Irvine officials planned to use to fund the most ambitious aspects of its Ken Smith-designed park.
FivePoint and the city have been in negotiations for much of the past year over scaled-down park plans and alternative funding options that would involve increased entitlement for housing development on the former base from about 5,000 homes to 9,600.
Latest Proposal
FivePoint's latest proposal includes paying the city $174 million over a five-year period in return for the additional entitlements. The developer's money would go toward a sports park, golf course, trails and other amenities on 688 acres of the city-owned land. FivePoint also has pledged to cover the operating costs of the facilities in case of a deficit.
The Irvine City Council took up the latest proposal this month and has a planning commission hearing slated for October.
The city's politics are famously fractious, and the Great Park has been no exception. Haddad said the current best-case scenario would have the city approve FivePoints' latest offer by Thanksgiving, and construction of the public amenities on the park land could begin in earnest early next year.