Santa Ana Offices Could Bring $65 Million for Seller
TUSTIN CENTRE COMPLEX FEATURES 10-STORY TOWER
Sunday, September 29, 2013
Share this article: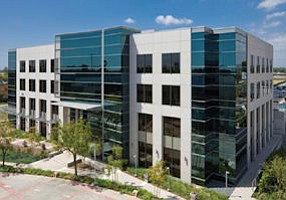 The two buildings that make up the nearly 280,000-square-foot Tustin Centre office complex are up for sale in separate deals that could fetch close to a combined $65 million.
The Santa Ana office complex, which sits on North Tustin Avenue overlooking the Costa Mesa (55) Freeway, has a 10-story office tower built in the early 1990s, as well as a four-story building that opened in 2009.
New York-based investment giant Blackrock Inc., which owns both buildings, put them up for sale in the past few weeks.
The larger 200,000-square-foot office held the headquarters of Grubb & Ellis Co. when the brokerage was based in Santa Ana. The tower currently is about 70% leased, according to marketing materials.
That building is going to market without an asking price but is expected to sell for more than $200 per square foot, or $40 million, according to brokers familiar with the property.
The smaller building, one of the few local offices built during the thick of the last recession, has a $25.5 million asking price, or $310 per square foot. It's fully leased under a long-term deal to Regional Center of Orange County Inc., a nonprofit that provides services and support for people with developmental disabilities.
The buildings could be bought as a pair. The sellers, however, are offering them separately due to the different profile of buyers who would likely be attracted to them because of their respective tenant situation.
Brokers from the local offices of CBRE Group Inc. and Newmark Grubb Knight Frank have the listing for the buildings.
Santa Clara Additions
Newport Beach-based Irvine Company added another large office complex to its quickly expanding Silicon Valley portfolio.
The company recently completed the purchase of Augustine Business Park in Santa Clara. The three-building complex, which was sold by Los Angeles-based Arden Realty, is just off the 101 Freeway and is about 188,000 square feet.
The property traded hands for about $55 million, or $292 per square foot, according to the Silicon Valley Business Journal, which first reported the sale.
It's one of several office purchases Irvine Co. recently made in the Santa Clara area. Last year it bought a nearby 32-acre business park that's slated to be redeveloped into a 1.2 million-square-foot office campus. It's also nearing completion of a 900,000-square-foot complex elsewhere in the city.
Irvine Co. officials said they have no immediate plans to redevelop the former Arden office park, which sits on 12 acres.
Rolling the Dice
Irvine-based apartment investor Bascom Group LLC has made a $36.5 million bet on Las Vegas' multifamily market.
The company recently completed the purchase of Broadstone Montecito, a 336-unit, garden-style community near the 95 Freeway on the northwest edge of Las Vegas.
The complex has 17 three-story buildings on 15 acres; 72% of the apartments are two-bedroom units, while the balance are one- and three-bedroom units.
The property, built by Phoenix-based Alliance Residential Co. in 2007, sold for about $109,000 per unit.
Debt financing for the deal was provided by CIBC Inc. and arranged by CBRE Capital Markets.
"Montecito represents a great opportunity to purchase a well built, high quality property in the trough of a rebounding market," Bascom principal Scott McClave said in a statement.
Bascom owns more than 20,000 apartments and ranks as the country's 43rd-largest apartment owner.
The complex is the ninth apartment for the company this year and its first in Las Vegas.
"We see a strong recovery in the Las Vegas market," said Bascom managing partner Jerome Fink, "and look forward to growing our presence there."
KBS Refi
The Irvine office of HFF LP said it has arranged a new loan for a Burbank shopping center bought late last year by an affiliate of Newport Beach-based KBS Realty Advisors.
The company's KBS Strategic Opportunity REIT Inc. partnered in a late-2012 deal to buy The Burbank Collection, a 39,428-square-foot retail property in the San Fernando Valley. It paid about $12.8 million in a deal with Santa Monica-based Goldstein Planting Partners LLC.
HFF said it arranged a new, $11.2 million loan for the center. The three-year loan has a 2.53% interest rate and was placed through a regional bank.
The retail property in the Burbank Entertainment Village was built in 2008 and was 57% leased at the time of its sale.
The HFF team representing the borrower was led by senior managing director Kevin Mackenzie and associate director Greg Brown.