Haddad's Fashion Sense; Brower's Book; Folino's 'Selfless, Gracious Act'
Sunday, September 29, 2013
Share this article: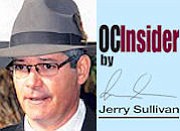 All the pols who gathered for the Pavilion Park luncheon to kickoff sales of Great Park Neighborhoods homes should have walked away with a wardrobe lesson from Emile Haddad, CEO of developer FivePoint Communities (see story, page 1). Not so much Haddad's crisp black suit or immaculate white shirt—any confirmed bachelor could figure that combo out. It was the hometown fashion note of a vibrant orange tie that should send Todd Spitzer, Steven Choi, Jeff Lalloway and the rest of the male elected officials on their way to the haberdasher before their next campaigns …
Other attendance notes from Pavilion Park: Irvine Company SVP Michael LeBlanc joined the celebration; Larry Agran did not, making him the only member of the Irvine City Council missing … Haddad and his FivePoint team are well aware of the high bar set by the Irvine Co. with its developments surrounding the Great Park project. Anyone who wants to know how that bar was set can get a breezy, fact-filled account about Irvine Co.'s post-WWII evolution in Martin Brower's recently re-released "The Irvine Ranch: A Time for People," which was first published 1994 and now comes with an epilogue that updates the Donald Bren years. …
Architecture firm MVE Group has done its share of work on Irvine Co. projects over the years, and it's added big doings in China to its portfolio (see related story, page 1). The V in MVE—Ernesto Vasquez—has decided to stick exclusively to his longtime focus on inner-city institutional projects in the U.S., including schools, transit centers and the like. He says his recent split with partners Carl McLarand and Rick Emsiek was amicable and paved the way for him to take the institutional business with him. His new firm will go by MVEI—I for institutional— for the next year and then get rebranded …
Quite a week for the arts in OC—led by Paul Folino, who donated $10 million to South Coast Repertory in 2002 and last week gave up naming rights on the theater company's home stage in favor of founders David Emmes and Martin Benson. The move got the attention of the theater world, with coverage everywhere from LA Stage Times to Broadwayworld.com. Then came this, from Jerry Mandel, who learned the local landscape of philanthropy during his 20 years as vice chancellor for advancement at UCI and a stint as president of the Segerstrom Center. Mandel calls Folino's move "a selfless and gracious act of pure philanthropy seldom if ever seen in the OC" …
The Pacific Symphony got its classical season kicked off in fine fashion, with a return visit by piano prodigy Conrad Tao, who joined Carl St. Clair's orchestra on Rachmaninoff to dazzling effect. There will be plenty of chances to invite the 19-year-old Tao back—PSO Chair Michael Kerr told the preperformance, black-tie dinner crowd co-hosted by Ruth Ann, John Evans and Karlyne and Nick Greenko at the Center Club that the Hal and Jeanette Segerstrom Foundation had signed on to sponsor the classical season for another 10 years.