Purple Reigns for Alzheimer's Campaign
Tuesday, September 24, 2013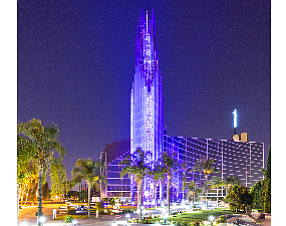 Orange County — The Orange County chapter of the Alzheimer's Association is on the quest to paint the town purple.

The Irvine-based non-profit has illuminated several well-known landmarks across the county with purple-tinged spotlights in a bid to rally community support for those affected by dementia, Alzheimer's and other conditions related to memory loss.
The GO Purple OC event is set to run through this week as a part of the organizations' Cornerstone Campaign, which has a $10 million fundraising goal. Marketing efforts for the event are being spearheaded by Idea Hall, a Costa Mesa-based public relations and marketing agency that has a $500,000 contract with the non-profit.
The purple spotlights are shining on the rocket in front of the Discovery Science Center in Santa Ana, the future Christ Cathedral in Garden Grove, Chapman University's Memorial Hall, the Big A in front of the Angel Stadium of Anaheim, and several city halls and shopping centers.
Several Orange County–based public agencies and businesses are also participating by turning their social media accounts purple.
More than 83,000 people in Orange County are living with Alzheimer's disease or dementia, according to the non-profit, which is serving 26% of them and hopes to do more. The Alzheimer's Association also is planning three Walk to End Alzheimer's events this fall, to be held at the District at Tustin on Oct. 26; Huntington Beach on Nov. 2; and Angel Stadium on Nov.16.
Visit GOpurpleOC.com for more information.