Burnham Buys on Westcliff, Plans Makeover
REAL ESTATE: GETS HIGH-END OFFICE, SHOPS; SELLS BIG-BOX RETAIL
Sunday, September 22, 2013
Share this article: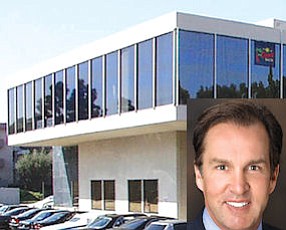 Burnham USA Equities Inc. has added a high-profile office and retail property in Newport Beach to its portfolio and sold off a big-box retail property in Laguna Niguel.
The separate deals combined for a value of close to $25 million.
The Newport Beach-based commercial real estate investor said last week that its Burnham-Ward Properties affiliate closed on the purchase of 1617 Westcliff Drive, a two-story property near the boundary between Newport Beach and Costa Mesa.
The building, which runs about 34,500 square feet, has a number of high-end medical and dental tenants, including Terry Dubrow, a cosmetic surgeon who is the husband of "Real Housewives of Orange County" cast member Heather Dubrow.
The property has also held other offices, shops and a number of popular restaurants over the years, including The Arches. The steak house closed its location there two years ago, and the space remains vacant.
Burnham-Ward purchased the building out of bankruptcy. Court records show the building trading hands for $9.4 million, or about $272 per square foot.
Mark Larson, president of the Lee & Associates' investment services group in Los Angeles, represented the seller.
The property's prior owner, a Newport Beach-based entity operating under the 1617 Westcliff LLC name, filed for bankruptcy in August 2012 after falling behind on about $7.5 million of debt, according to court records.
The new owner plans to invest "millions" on a major overhaul of the center, according to Scott Burnham, chief executive of Burnham USA, one of the larger owners of offices and retail properties in and around Newport Beach.
"We'll be spending a lot of money on its redevelopment," Burnham said.
"It's located at an intersection that's not meeting its potential," he said. "Outside of Fashion Island, this is the main shopping district for Newport Beach residents."
Burnham USA owns several retail and office properties within a few blocks of its just-acquired site, primarily along Costa Mesa's 17th Street, which turns into Westcliff Drive upon entering Newport Beach.
The company's best-known retail shopping center is South Coast Collection in Costa Mesa. The property, which runs along the San Diego (405) Freeway, is a former home-furnishing center Burnham USA redeveloped into a cutting-edge design and culinary center.
Burnham said his company is eyeing other properties—including some that could be converted into apartment developments—in the vicinity of the South Coast Collection.
Hobby Lobby Sale
Another retail property that Burnham USA redeveloped got a new owner this month when the investor completed the sale of a 77,500-square-foot building at 27200 Alicia Parkway, part of the Marketplace at Laguna Niguel shopping center.
The property is said to be the second-largest retail building in Laguna Niguel. Burnham paid about $7.6 million for the then-empty building in 2010 and last year signed arts-and-crafts retailer Hobby Lobby Stores Inc. to a 15-year lease for the entire building.
Terms of the latest sale were not immediately disclosed. The property, which is on about 7 acres, is said to have changed hands for more than $15 million.
The new owner is described as a locally based investment group, according to Fouy Ly, senior vice president at the Irvine office of Cushman & Wakefield Inc., who had the listing for the building.