TTM to Close China Plant, Lay Off 600
Friday, September 13, 2013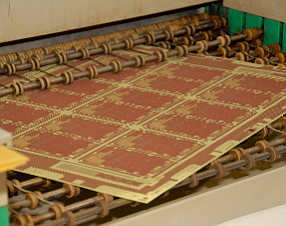 Costa Mesa-based printed circuit board maker TTM Technologies Inc. plans to close one of its manufacturing plants in China and lay off about 600 employees there, according to a filing with the Securities & Exchange Commission.
The company said in the filing it will move production from its shuttered plant in Suzhou to one of its other facilities in China.
The restructuring, which includes severance packages, disposal costs and asset devaluations, will cost
TTM between $10 million and $20 million.
Most of the charges will be taken this quarter, the company said.
TT makes circuit boards for the communications, industrial, medical and consumer electronics sectors, projects.
The company has steadily cut production capacity this year in China, its main manufacturing hub, as demand wanes in its nonmobile business.
The Business Journal in March reported that the company signed a deal with Shengyi Technology Co. to sell TTM's 70.2% stake in a 190,000-square-foot plant in Donguann, China, for about $113 million, while TTM acquired Shengyi's 20% stake in a nearby 650,000-square-foot plant for roughly $29 million.
The companies had co-owned both plants, which primarily manufacture traditional printed circuit boards.
TTM's production in China was running at about 65% of capacity before this latest development, analyst Matt Sheerin, managing director of equity research in the New York office of St. Louis-based Stifel Financial Corp, told the Business Journal in an earlier interview.
TTM, known to supply Apple Inc. with components for iPhones and iPads, gets about 14% of its $1.3 billion or so in annual revenue from the Cupertino-based company. Apple has seen iPhone sales sag this year, which has also affected TTM's production in China.
The company employed about 420 people in Orange County and 2,620 companwide through August, according to the Business Journal's list of contract electronics makers that published earlier this month.
TTM is the largest printed circuit board maker in the U.S., a title it could lose this year following Viasystems Group Inc.'s $228 million buy of Anaheim-based DDi Corp. last year.
TTM shares were up less than 1% in midday trading Friday to a market value of $790.34 million.