U.S. News & World Report: UCI Drops 5 Spots, Still in Top 50
Tuesday, September 10, 2013
Share this article: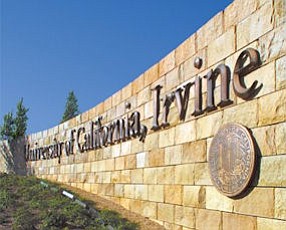 Orange County — University of California, Irvine ranked No. 49 on the U.S. News & World Report's 2014 list of the country's top private and public colleges and universities.
UCI tied with Northeastern University in Boston, Mass., and the University of Florida in Gainesville.
The placement marked a five-spot decline—UC Irvine ranked No. 44 last year and No. 45 in 2012. The university also ranked as the 14th-best public school nationally this year, down from the 12th spot last year.
Five other UC schools were recognized: UC Berkeley ranked No. 20, followed by UCLA, which shared the No. 23 spot with rival University of Southern California, Wake Forest University in Winston-Salem, N.C., and the University of Virginia in Charlottesville; UC Davis and UC San Diego tied for the No. 39 spot; UC Santa Barbara ranked No. 41.
The schools on the list offer undergraduate majors and master's and doctorate programs and focus heavily on research. The ranking methodology included consideration of endowments, alumni giving and student-faculty ratios.
Soka University of America in Aliso Viejo placed No. 41 on a separate list of liberal arts colleges, which focus on undergraduate education and award at least 50% of their degrees in the arts and sciences. Soka University went up eight spots from last year's ranking, to tie with Occidental College in Los Angeles.
A list of universities in the Western region of the U.S. featured Chapman University in Orange in the No. 7 spot—down from No. 6 on last year's list. California State University, Fullerton ranked No. 35, down from No. 31, followed by Concordia University in Irvine in the No. 63 spot, up from No. 66 on the 2013 list.
Costa Mesa-based Vanguard University of Southern California made it to the No. 10 spot of regional colleges in the West.