Offices to Be Vacated by Pimco Getting Scooped Up
KBS TO MOVE TO PACIFIC FINANCIAL PLAZA IN 2014
Sunday, September 8, 2013
Share this article: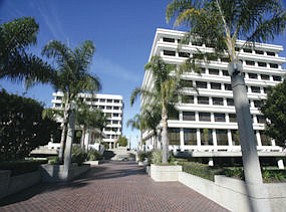 Pacific Investment Management Co. is several months away from moving into its new 20-story headquarters at 650 Newport Center Drive, but that hasn't stopped other area businesses from leasing portions of the complex holding the bond giant's existing base.
Newport Beach-based KBS Realty Advisors is the latest local company that will backfill soon-to-be-vacated Pimco space at Pacific Financial Plaza, the three-building office complex in the 800 block of Newport Center.
KBS, which invests money for pension funds and also has a series of nontraded real estate investment trusts that raise money from individual investors, recently signed a nearly 42,000-square-foot lease at the complex and is scheduled to move into the space next year.
KBS has been based out of the nearby tower at 620 Newport Center Drive, which, along with Pacific Financial Plaza, is owned by Newport Beach-based Irvine Company.
"It's a great opportunity for us to consolidate," said KBS Chief Executive Chuck Schreiber, whose company employs about 150 people in two Newport Center offices.
Other large leases signed at Pacific Financial Plaza of late include Newport Beach-based insurance giant Pacific Life Insurance Co., whose aviation leasing group inked a new 32,500-square-foot lease at the complex.
Pacific Financial Plaza is about 280,000 square feet. Its other tenants include Irell & Manella LLP, one of Orange County's largest law firms; Morgan Stanley Smith Barney LLC; and tenant brokerage Travers Realty Corp.
Pimco had been leasing about 180,000 square feet at the complex, as well as space at other nearby centers, when it signed a deal with Irvine Co. to build the 380,000-square-foot tower at 650 Newport Center Drive.
Irvine Co. officials said that with the KBS deal completed, the landlord has now leased or is in talks to lease about 85% of the space Pimco has occupied at Pacific Financial Plaza.
"This is a sign of strength in the Newport Center office market, as it is rare for large blocks of space to come available there," Irvine Co. spokesperson Mike Lyster said.
Also helping the leasing activity is a nearly yearlong renovation at the property, according to Lyster.
Improvements include a redesigned visitors parking area and new outdoor workspaces.
Irvine Co. bought Pacific Financial Plaza in late 2010 in a deal estimated at more than $125 million. It had been one of the few upscale offices in the area surrounding the Fashion Island shopping center that the company hadn't already owned.
LBA Looks to Raise Funds
Irvine-based real estate owner and investor LBA Realty is looking to raise money for another real estate investment fund.
Regulatory filings with the Securities and Exchange Commission in late August show the company, one of Orange County's more opportunistic buyers of real estate in the past five years, preparing to launch LBA Realty Fund V LP, a pooled investment fund.
The SEC filing doesn't disclose how much privately held LBA is looking to raise in the offering. Its last fund of the type, LBA Realty Fund IV, raised $736.2 million about four years ago.
Since that fund closed, LBA has bought a bulk of Irvine's Park Place mixed-use campus and a portfolio of OC industrial properties from Los Angeles-based Kilroy Realty Corp., among other prominent deals. It's unknown whether it used the money raised from LBA Realty Fund IV or from other financing to fund those purchases.
Tire Co. Expansion
Aliso Viejo-based CT Realty Investors has a redevelopment plan in the works for an industrial building it just bought in Rancho Cucamonga.
The real estate investor and developer last month paid $9 million for the 138,595-square-foot Inland Empire building. It was sold by logistics company Waitex International Ltd., which will lease back the property under a short-term deal.
CT Realty, once the lease with Waitex expires, plans to redevelop the building and an adjoining 177,550-square-foot property that it bought last year for about $10.2 million. It leases the larger building to GiTi Tire USA Ltd., which uses the property for storage and distribution of automobile and truck tires.
GiTi Tire plans to occupy both buildings under a long-term lease once the redevelopment is completed.