REAL ESTATE: STAKE IN OFFICE, LAND SALES IN AIRPORT AREA SET STAGE
Hines Eyes New Office Project Next to Buy at Main & Von Karman
Sunday, September 8, 2013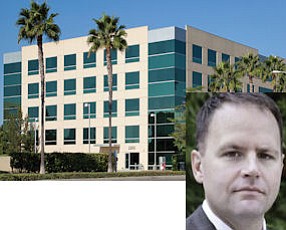 A couple of separate deals completed last week have Hines Interests LP looking to build a new office at one of the busier intersections in Irvine.
Hines Global REIT Inc., a nontraded real estate investment trust managed by Houston-based Hines, last week bought 2300 Main St., a five-story building at the intersection of Main Street and Von Karman Avenue.
An undeveloped, 0.65-acre parcel of land that's part of the same Main Corporate Center sold to a different investment group that includes Hines and Los Angeles-based private equity firm Oaktree Capital Management LP.
The building at 2300 Main totals about 132,000 square feet and sold for $38.2 million, or about $289 per square foot.
It is the priciest acquisition in Orange County for an affiliate of Hines—one of the country's better-known office owners and developers—in more than six years.
An affiliate of Irvine-based LBA Realty sold the office, which is part of the Main Corporate Center office campus.
Main Corporate Center includes two existing buildings and was reportedly put on the market for sale earlier this year. The building at 2300 Main, which is fully leased under a long-term deal to a unit of United HealthCare Services Inc., a Minnesota-based managed care company that has a large operation in Cypress. The second property at the campus—a 65,000-square-foot office at 17900 Von Karman Ave.—did not trade hands in the deal with Hines Global REIT.
Hines and Oaktree—which have partnered for several smaller office property buys in the area in the past few years—said they plan to build a new office at the 0.65-acre site they bought next to 2300 Main. The new building could be as tall as nine stories and as big as 242,000 square feet.
Time Frame
A time frame for development depends on the new owners first lining up a tenant for the office.
"We'll be actively pursuing build-to-suit tenants," said Ray Lawler, the head of Hines' Irvine development and investment office.
The building also could be designed and built to hold multiple tenants, said Lawler, who believes the project should be able to capitalize on improving market fundamentals in Orange County.
"We look forward to constructing a building that suits the specific needs of a future user," said Mark Jacobs, Oaktree managing director. "Given the prime location, coupled with the Hines-Oaktree sponsorship, we believe we can attract a lead tenant for our project."
Hines' last local development was the nearby 2211 Michelson office tower, which it built in 2007 in a partnership with Crescent Real Estate Equities Co. of Fort Worth, Texas. The 12-story building was sold in 2010 for a reported $103.5 million (see related story, page 6).
Terms of the land sale were not disclosed.
In addition to the existing 17900 Von Karman Ave. office, LBA retains ownership of a separate parcel of undeveloped land at the campus that is eventually expected to hold a boutique hotel.
LBA also continues to own the 12-story Oracle Tower, a 273,000-square-foot office on the opposite side of Von Karman that previously held the headquarters of Irvine-based Taco Bell Corp.
Familiar Territory
Hines, like LBA, is familiar with properties at the intersection of Main and Von Karman. It previously was the co-owner of 2323 Main St., a nearly 260,000-square-foot industrial building on the northeast corner of the intersection that once held the headquarters of shoe manufacturer American Sporting Goods Corp.
That building was sold to a foreign investor in 2009; and has seen little leasing activity since.
Hines also manages a 151,370-square-foot office for Oaktree at the northwest corner of the intersection, at 18885 Von Karman. That building is the only office at the five-building Quintana office campus that's largely occupied. The other buildings at the campus are owned by Palo Alto-based Menlo Equities LLC.