Midday Stock Roundup
Tuesday, September 3, 2013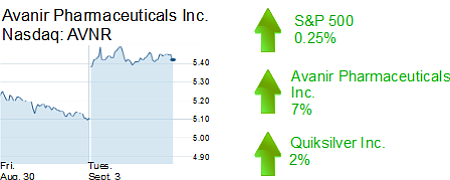 The S&P 500 rose 0.25% to 1,637.01 in afternoon trading Tuesday.
The Dow Jones Industrial Average was down 0.11% to 14,794.26, while the Nasdaq was up 0.44% to 1,605.62.
The yield on a 10-year Treasury bond rose 4.37% to 2.87%.
The price of gold was up 1.13% to $1,411.90 per ounce.
HEALTHCARE
Aliso Viejo-based drug maker Avanir Pharmaceuticals Inc. said it reached a settlement agreement with Actavis Inc. Actavis will be allowed to sell a generic version of Avanir's NUEDEXTA drug in 2026 under terms of the agreement. Investors sent Avanir's shares up about 7% on the news to $5.44. The company had a recent market value of $791.35 million.
APPAREL
Huntington Beach-based Quiksilver Inc. is up about 2% to $5.05 for a market value of $845.31 million. The action-sports apparel maker and retailer is expected to report its third-quarter results on Thursday.
SERVICES
CorVel Corp., an Irvine-based provider of workers' compensation technology services, rose about 5% to $34.58 for a market value of $732.34 million.