7-YEAR LEASE FOR WHITE NELSON RUNS 27,000 SF
Accounting Firm Renews at Irvine Co.'s Jamboree Center
Sunday, September 1, 2013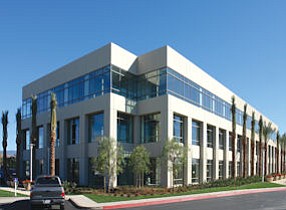 Accounting firm White Nelson Diehl Evans LLP was the first big tenant to sign a lease at the Jamboree Business Center in Irvine when the three-building office complex opened in 2007.
Now the company, which is Orange County's 10th-largest accounting firm by employee count, is the first large tenant to announce it has renewed its lease at the Irvine Company-owned complex.
The company, which employs about 110 people in Irvine and has about 20 partners, recently completed a seven-year lease at 2875 Michelle Drive. It will continue to occupy about 27,000 square feet of space at the three-floor building—which bears its name—and take up about one floor.
White Nelson took a look at other space options before deciding to renew its lease, said Randall Parker, president for the Newport Beach office of brokerage Travers Realty. He represented the tenant in the lease with colleague Stacy Garcia.
"After thoroughly reviewing the marketplace, it was clear to White Nelson that this project best supported their long-term needs," Parker said.
Terms of the lease weren't disclosed. Other space at the complex is listed for lease on Irvine Co.'s website at monthly rents of $1.55 per square foot.
Jamboree Business Center sits near the intersection of the Santa Ana (I-5) Freeway, the Foothill (261) Toll Road and Jamboree Road. It was largely built in 2006, at a reported cost of $22 million.
The three buildings are each about 77,000 square feet. Other large tenants at the complex include Henkel Corp. and Alliant International University.
White Nelson moved its headquarters from Anaheim to Irvine when the Jamboree Business Center office opened. It focuses on privately held businesses, particularly manufacturers and distributors.
The firm said it represents more than 1,200 businesses and 1,800 individuals. It also has offices in Carlsbad and Escondido.
Cadillac Buy
Newport Beach-based real estate owner and developer Myers-Erickson Properties Inc. bought its second sizable industrial property on Cadillac Avenue in Costa Mesa.
The company recently completed the purchase of 3545 Cadillac Ave., a 48,796-square-foot building a few blocks north of the San Diego (405) Freeway near the South Coast Collection shopping center.
Tetsuo Mori Testamentary Trust sold the building for $6 million, or about $123 per square foot. The deal yielded a roughly 5.6% capitalization rate on its first year's net income, according to the buyer.
The building is fully leased to long-term tenants Pyramid Laboratories Inc. and Ecliptek Corp.
Newmark Grubb Knight Frank brokers Scott Read and Jeff Read represented the seller. Newmark Grubb's Nick Carey represented Myers-Erickson.
Prev Next