TTM Names CEO, Reports Q3 Earnings
Thursday, October 31, 2013
Share this article: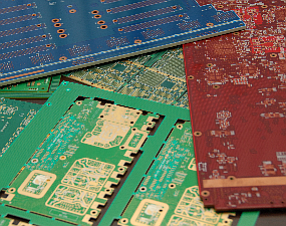 Costa Mesa-based printed circuit board maker TTM Technologies Inc. on Wednesday announced a leadership change and third-quarter earnings that missed Wall Street expectations.
President Thomas Edman, who joined the company early this year, will replace longtime Chief Executive Kenton Alder after Alder's retirement at year's end.
Alder, who has held the top post since the company's launch in 1998, will continue to serve on the board and will hold an advisory position for one year during the transition, the company said.
Edman, prior to joining TTM, served as group vice president at Applied Materials Inc., where he ran the screen display business for the Santa Clara-based manufacturer, which posted $8.7 billion in sales last year.
It's the second shuffle in the executive ranks at TTM in the past three months. In July, Chief Operating Officer Shane Whiteside resigned "to pursue other interests."
Sales in the recently ended quarter topped $338.7 million, flat from a year ago and below analyst estimates of $347 million.
Adjusted profits were $11.6 million, down 32% from a year ago. Wall Street was looking for an adjusted profit of about $14 million.
TTM makes circuit boards for the communications, industrial, medical and consumer electronics sectors.
Last month, the Business Journal reported TTM plans to close one of its manufacturing plants in China and lay off about 600 employees there, according to a filing with the Securities and Exchange Commission.
The company said in the filing that it will move production from its shuttered plant in Suzhou to one of its other facilities in China.
The restructuring charges, which included severance packages, disposal costs and asset devaluations, were $14.1 million in the September quarter.
Strong fall seasonal demand for TTM circuit boards used in smartphones and tablets was partially offset by a $6 million warranty claim related to a product quality issue that surfaced in the June quarter, Alder said.
TTM provided revenue and adjusted profit targets for the current quarter that were below Wall Street expectations.
The company projects sales between $350 million and $370 million, below consensus estimates of $386.7 million.
It projects adjusted profits in the range of $14.8 million to $19.8 million. Analysts on average are forecasting adjusted profits of $21.4 million.
Investors sent TTM shares down about 12% in afternoon trading Thursday to a market value of $716.38 million.
TTM is the largest printed circuit board maker in the U.S., a title it could lose following Viasystems Group Inc.'s $228 million buy of Anaheim-based DDi Corp. last year.