PacSun Retail SVP to Depart in November
Tuesday, October 29, 2013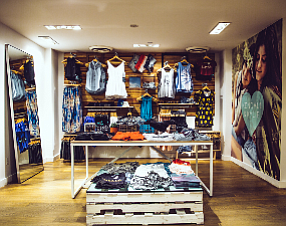 The head of retail for Anaheim-based Pacific Sunwear of California Inc. is set to resign from the company Nov. 8, according to a Monday filing with the Securities & Exchange Commission.
Paula Lentini has been senior vice president of retail at the chain since 2010.
Her duties include operations, real estate, construction and loss prevention.
Lentini joined PacSun amid a turnaround bid at the company's stores, which totaled 637 as of Aug. 3.
Pacific Sunwear has made significant changes in in-store merchandising since then by playing up heritage brands and new women's offerings in addition to the company's more recent testing of its first-ever pop-up shop concept in New York's SoHo shopping district.
Lentini came to Pacific Sunwear from T-Mobile where she was vice president of U.S. Sales and Operations. She has more than 20 years of experience in apparel retail and has also worked at Gap Inc., Giorgio Armani and Victoria's Secret Stores Inc.