Western Digital Reports Better-Than-Expected Earnings
Friday, October 25, 2013
Share this article: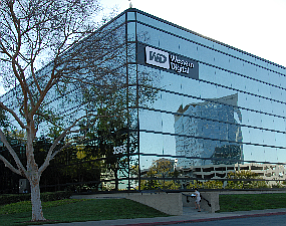 Irvine-based disk drive maker Western Digital Corp. on Thursday reported revenue and adjusted profits in the September quarter that beat Wall Street estimates.
The company posted sales of $3.8 billion, down 5% from a year earlier.
Analysts on average had forecast sales of $3.78 billion.
Adjusted profits hit $514 million, down 13.4% from a year ago.
Wall Street was looking for an adjusted profit of about $485.5 million.
The company said it sold 62.6 million hard drive units in the quarter, compared to 62.5 million units shipped a year ago.
Hard drives use spinning disks to store data, unlike the company's growing line of solid-state drives, which use chips.
Western Digital's disk drives go into computers, external storage devices, corporate networks and consumer electronics, such as DVR players.
Investors sent the company's shares up about 4% in afternoon trading Friday to a market value of $17.35 billion.
Cupertino rival Seagate Technology Inc. is scheduled to report September financial results after the close of trading Oct. 28.