Ingram Reports Mixed Q3
Friday, October 25, 2013
Share this article: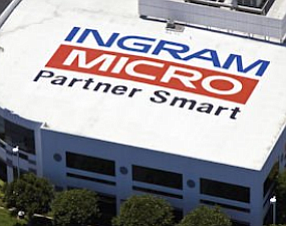 Santa Ana-based Ingram Micro Inc. on Thursday reported mixed financial results for the third quarter.
The company posted sales of $10.2 billion, up 12% from a year ago.
Analysts on average had forecast sales of $10.52 billion.
Ingram Micro Chief Executive Alain Monie credited the sales jump to last year's acquisitions of Indianapolis-based wholesale distributor BrightPoint Inc. and Aptec Holdings Ltd. in Dubai.
BrightPoint is one of the largest mobile device distributors in the world and accounted for most of that gain.
Adjusted profits hit $83 million, up 33% from a year earlier and in line with analyst estimates.
The company's services division within its mobility business propped up margins in the recently ended quarter and contributed to the profit increase, according to Monie.
Gross margins improved to 5.9%, up 17.5% from a year ago.
The BrightPoint buy added $10.6 million to net income in the recently ended quarter and is projected to add nearly $52 million in profits this year.
Ingram Micro is the world's largest distributor of computers, software and other technology products.
Monie also signaled that its longstanding operational troubles in Australia continue to improve, with the region set to post its first annual profit in years.
Revenue in Australia grew for the third consecutive quarter as its operating loss dipped to less than $2 million. The region reported an operating loss of $9 million a year ago and $3 million in the second quarter.

Ingram Micro has been on a multiyear campaign to regain profitability and customers in Australia following a major operational glitch more than two years ago. Problems with a new electronic logistics system there first surfaced in early 2011, causing Ingram Micro to miss Wall Street profit targets in the first quarter of the year and hampering earnings since then.
The company said gross margins and revenue should improve in the current quarter, historically the company's best business quarter due to the holiday shopping season.
Ingram Micro shares were down less than 2% in afternoon trading Friday to a market value of $3.52 billion.