Midday Stock Roundup
Wednesday, October 23, 2013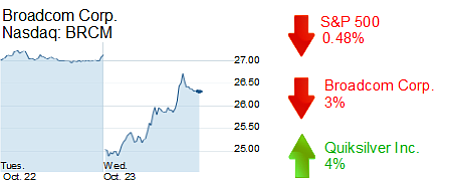 The S&P 500 fell 0.48% to 1,746.26 in afternoon trading Wednesday.
The Dow Jones Industrial Average was down 0.39% to 15,407.06, while the Nasdaq was off 0.64% to 3,904.22.
The yield on a 10-year Treasury bond slipped 1.35% to 2.48%.
The price of gold fell 0.54% to $1,335.30 per ounce.
TECHNOLOGY
Irvine-based chipmaker Broadcom Corp.'s shares opened sharply lower than Tuesday and have risen so far, but were still down about 3% to $26.36. The company guided revenue targets for the current quarter below consensus estimates and said it would cut as many as 1,150 jobs in its global workforce. Broadcom had a recent market value of $15.26 billion.
APPAREL
Huntington Beach-based action-sports apparel maker and retailer Quiksilver Inc. rose about 4% to $7.75 on news that the company plans to sell its snowboarding arm Mervin Manufacturing Inc. to Extreme Holdings Inc. in an all cash deal. The purchase price was not disclosed. Quiksilver had a recent market value of $1.31 billion.
HEALTHCARE
Anaheim drug maker Questcor Pharmaceuticals Inc.'s shares were up about 7% to $66.79, a day after the company announced the start of a second-phase study on its H.P. Acthar Gel.
The company's stock dipped as much as 9% on Monday following a Barron's report over the weekend calling into question Questcor's relationship with the nonprofit Chronic Disease Fund for which it is a beneficiary and donor. The company had a recent market value of $3.94 billion.