Broadcom Bouncing Back
Wednesday, October 23, 2013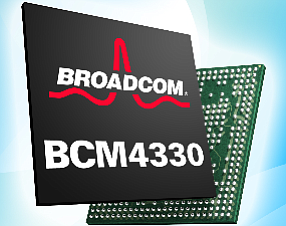 Broadcom Corp. shares are making a modest comeback in afternoon trading after taking a big hit after hours yesterday.
The Irvine-based chipmaker's shares opened at $25.03, a day after it provided revenue targets for the current quarter below Wall Street expectations and announced a restructuring plan that will cut as many as 1,150 jobs.
Investors have pushed shares back up $1.42 to $26.42, to a market value of about $15.26 billion.
Shares were down more than 8% in extended trading Wednesday on the soured outlook and rising concerns the company is losing market share in smartphone market amid increased competition in the lower-end segment, short-term inventory shifts and the company's lack of a 4G chip.
The cuts, which amount to about 9% of its global workforce, will target three areas: Broadcom's baseband business; employees acquired in its recent $164 million deal for certain assets of Tokyo-based Renesas Electronics Corp.; and other general areas, Chief Executive Scott McGregor said in conference call with analysts after the company's third quarter earnings report yesterday.
The Renesas deal brought Broadcom about 1,200 additional employees. As many as 350 were expected to be cut after the deal closed in May.
Broadcom also projects to cut up to 425 additional employees due to redundant positions related to the Renesas buy. Another 375 cuts will be "across the board," McGregor said in the conference call.
Its Orange County workforce, which was about 2,500 late last year, will see some cuts, but a company spokesperson wouldn't elaborate beyond that.
The company recorded restructuring costs of $12 million in the recently ended quarter and projects another $20 million in restructuring costs in the current quarter.
The Renesas buy brought key assets related to Long Term Evolution technology, the latest standard for wireless communication coveted by Broadcom as it looks to capture a bigger slice of the smartphone market.
Broadcom specializes in communication chips that go in tablets, smartphones, set-top boxes, broadband modems, networking gear and other products.
The company projects sales in the December quarter between $1.91 billion and $2.03 billion.
Analysts on average forecast sales of $2.13 billion.