Vans to Get Marketing Boost for Year-End
Monday, October 21, 2013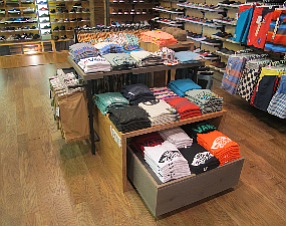 Cypress-based Vans Inc. will benefit from parent V.F. Corp.'s announcement Monday that the action-sports apparel and footwear brand will get a chunk of $30 million worth of marketing planned for this quarter.
Other beneficiaries of the marketing infusion include Greensboro, N.C.-based V.F.'s The North Face outdoor brand and the company's business in China.
That follows about $10 million spent during the quarter ended Sept. 28 for those three business areas.
V.F. doesn't provide revenue breakdowns for its individual brands. It's most recent specific disclosure pegged Vans sales at about $1 billion in 2011.
The announcement on the current marketing plans came with V.F.'s report of the September quarter, which proved to be another strong period for Vans.
Vans saw its global third-quarter revenue rise 16%. That included growth in retail accounts and company-owned stores.
Vans' Americas division saw its third quarter revenue grow in the low teens.
The company also continued to expand its apparel business with the company seeing growth in cold weather regions, such as Canada and the Northeast.
V.F.'s overall third-quarter revenue totaled $3.3 billion, up 5% from a year earlier.
Net income for the company rose 13.75% to $433.76 million.
V.F.'s shares closed up about 3% on Monday to a market value of $23.22 billion.