Midday Stock Roundup
Monday, October 21, 2013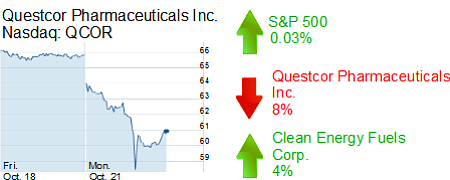 The S&P 500 was up 0.03% to 1,745.10 in afternoon trading Monday.
The Dow Jones Industrial Average fell 0.02% to 15,396.48, while the Nasdaq rose 0.29% to 3,925.53.
The yield on a 10-year Treasury bond was up 0.54% to 2.60%.
The price of gold was up 0.12% to $1,316.20 per ounce.
HEALTHCARE
Anaheim drug maker Questcor Pharmaceuticals Inc. slumped about 8% to $60.53, following a Barron's report over the weekend that called into question the relationship between Questcor and the Chronic Disease Fund medical nonprofit, which the report said Questcor is beneficiary of, as well as a donor.
Questcor had a recent market value of $3.57 billion and its shares have risen about 148% since the start of the year.
CLEAN TECHNOLOGY
Newport Beach-based Clean Energy Fuels Corp.'s shares rose about 4% to $11.93 after the company said it's working with GE Capital to help drivers on loans or leases for natural-gas trucks. Clean Energy had a recent market value of $1.06 billion.
REAL ESTATE
Homebuilders were generally down on Monday. The National Association of Homebuilders released its monthly housing market index last week showing a slide in homebuilder confidence from 57 in September to 55 in October.
Irvine-based Standard Pacific Corp. was down about 3% to $7.55 for a market value of $2.62 billion.