Reports: Fisker Loan Sold to Hong Kong Investor Group
Friday, October 18, 2013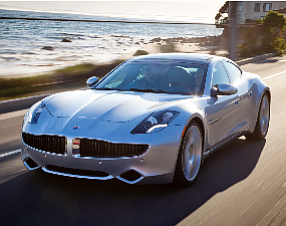 A Hong Kong investor group has emerged as the likely buyer of Anaheim-based Fisker Automotive Inc.'s Department of Energy loan, reports say.
An auction was held last Friday for Fisker's remaining $168 million DOE loan obligation, after a search for a buyer proved unsuccessful.
Reports say an investor group led by Hong Kong billionaire Richard Li had the winning bid last week.
The DOE does not intend to announce the auction winner until the auction process is completed.
Li's group had reportedly teamed up with Fisker cofounder Henrik Fisker in a bid to buy the company's loan before the auction.
Reuters reported a $30 million minimum had been set on any bids.
Fisker drew down about $192 million of its $528 million loan before it was suspended in 2011 after the automaker missed certain production and sales milestones.
The company had been in talks with prospective buyers last year but the stipulation that the remaining DOE loan be used by the buyer proved a hurdle to those negotiations.