Extron Expands into Texas
Monday, October 14, 2013
Share this article: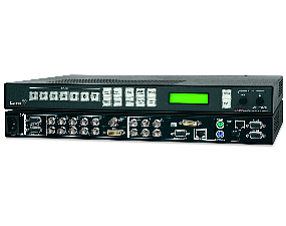 Anaheim-based Extron Electronics Inc. has expanded operations into Texas with a new regional office, training center and product demonstration facility in Irving, outside of Dallas.
The property, which includes classrooms and conference rooms, will house regional sales and marketing personnel and the company's first Extron Institute instructor course in emerging technologies, which began this month. Extron said the office is close to customers there and near the Dallas-Forth Worth International Airport.
Extron makes accessories, cables, connectors and other products that allow audiovisual devices to communicate over the Internet. In one application, the technology is used to transfer images, audio or video data from a computer to presentation screens at conferences, training centers, boardrooms and other venues.
The Business Journal estimates that the company, which moved to Anaheim in 1995, has $600 million in annual sales.
It moved into its newly built 198,000-square-foot headquarters at 1025 E. Ball Road, which it also owns, in early 2012.
The six-story building, one of the largest offices to be built in Orange County over the past five years, also is home to The Ranch Restaurant & Saloon, which covers 20,000 square feet on the ground floor of the building. The restaurant has a wine cellar and features live country music. It recently completed an expansion of the restaurant to the building's sixth floor, where it now offers private dining and room for events.
The Business Journal in May reported Extron acquired a pair of adjoining industrial buildings totaling about 157,000 square feet near the headquarters it was leasing.
That followed a $17 million buy of its former headquarters at 1001 E. Ball Road, a 110,600-square-foot office and manufacturing building it had been leasing near Disneyland.
The company owns or leases more than 750,000 square feet of office and industrial space in Orange County.
Its other U.S. locations include Raleigh, N.C., New York City and Washington D.C. It also has training facilities in China, France, Germany, India, Japan, the Netherlands, Russia, Singapore, South Africa, South Korea, the United Arab Emirates and the United Kingdom.