Taco Bell Top Performer in U.S. for Parent
Wednesday, October 9, 2013
Share this article: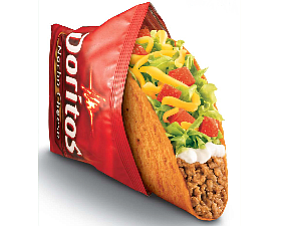 Irvine-based Taco Bell Corp.'s performance in the quarter ended Sept. 7 was called out as a "bright spot" for its parent in a conference call with analysts Wednesday morning, which also included praise for the fast-food chain's chief executive.
The chain, which has nearly 6,000 restaurants in the U.S., saw same-store sales rise 2% during the September quarter, while sister chains KFC and Pizza Hut both saw declines. It was Taco Bell's seventh- straight quarter of comparable sales growth.
The company is part of Louisville, Ky.-based Yum! Brands Inc.
"The brand definitely has mojo, and congratulations to [Taco Bell Chief Executive] Greg Creed and the team," Yum! Chief Executive David Novak said during the conference call.
Taco Bell's Doritos Locos Tacos and Cantina Bell menu items along with its use of social media for marketing were cited by Novak, who said the chain is "set up for another solid year."
Taco Bell represents 60% of Yum!'s U.S. profit.
Meantime, Yum! continues to feel the effects of an incident in December involving a report of a poultry farmer in China who was using antibiotics and hormones on chickens. Same-store sales for the company's China division slumped 11% during the September quarter and are expected to be negative in the current quarter.
Yum! sales companywide during the September quarter were off 4% to $3.02 billion, while its profit slipped 68% to $152 million.