Kofax Plans U.S. Offering, Nasdaq Listing
Friday, October 4, 2013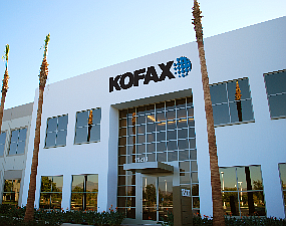 Business software maker Kofax PLC, which is publicly traded in London but maintains its headquarters in Irvine, has filed a registration statement with the Securities & Exchange Commission for a public offering on the Nasdaq exchange.
As part of the process to publicly trade shares in the U.S., the company has established a parent company Kofax Ltd., which expects to have a premium listing on the London Stock Exchange and sell its common on the tech-heavy Nasdaq .
The parent would be incorporated in Bermuda and based in Irvine, a company spokesperson told the Business Journal.
The size of the planned IPO has not been determined, according to the regulatory filing.
Minneapolis-based Craig-Hallum Capital Group LLC is the sole underwriter for the proposed offering.
Kofax and its Chief Executive Reynolds Bish have long eyed a public offering in the U.S. but refrained amid a volatile trading environment.
"When the financial market improves we're in position to do it," Bish told the Business Journal two years ago.
It appears the winds have changed for Kofax, particularly as the company relies more on its U.S. operation and customer base.
"As the Kofax group becomes an increasingly U.S.-centric business, the board believes the company needs to access the leading financial market for global software companies in order to better pursue its organic revenue growth and acquisition strategies," said Kofax Board Chairman Greg Lock. "In addition to maintaining a premium listing on the London Stock Exchange–which we value greatly, the board intends to establish a listing on Nasdaq."
Kofax moved its operational base to Irvine in 2008.
The company makes scanning software used by businesses to streamline the flow of information, eliminate paper, speed up productivity, reduce costs and improve customer service.
It marked a 5% rise in profit to $16 million from continuing business in fiscal 2012, ending June 30.
Revenue hit a company-record $262.5 million, up 8%.