Electric Kia Soul Set for 2014
Tuesday, October 1, 2013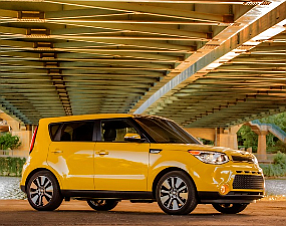 Irvine-based Kia Motors America Inc. will add its first all-electric car to its U.S. vehicle lineup next year.
The automaker, whose parent is South Korea-based Kia Motors Corp., said it plans to launch an electric version of its Soul next year.
Kia currently sells a hybrid version of its Optima sedan. It said the electric Soul will be sold in "select markets."
Vehicle specs and photos of the electric will be released at an upcoming major U.S. auto show, with reports speculating it will be the LA Auto Show in November.
The 2014 Soul comes in three trim options. The standard model will roll out in the fourth quarter with a starting price of $14,700, with the electric version to follow.
Kia sold 115,778 Souls in 2012, up 13% from a year earlier.