Irvine Approves More Great Park Homes
Wednesday, November 27, 2013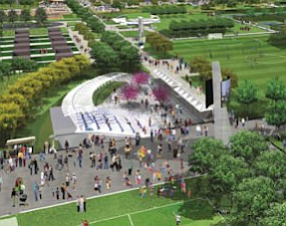 The developer of the Great Park Neighborhoods in Irvine has gotten city approval to build another 4,606 homes at the former El Toro Marine Corps Air Station.
Irvine's City Council approved plans early Wednesday for Aliso Viejo-based FivePoint Communities to increase housing from about 5,000 homes to 9,600 at the former base, in return for more than $200 million that will be spent building parts of the Orange County Great Park.
The 3-2 vote followed partisan lines, and was made after a lengthy council meeting that began at 4 p.m. Tuesday. Mayor Pro Tem Jeff Lalloway, a Republican, provided the deciding vote.
Lalloway got several last-minute concessions from FivePoint in return for his support, including an additional $10 million of improvements to the Great Park's primary entrance.
The agreement follows more than a year of negotiations between the city and FivePoint, which had been pushing for more construction to move ahead at the 1,347-acre Great Park, to provide an amenity to its housing development, which largely surrounds the city's park.
The first homebuyers at the Great Park Neighborhood's first development, the 720-home Pavilion Park, are in the process of moving into their homes.