JWA October Passenger Traffic Up 2%
Monday, November 25, 2013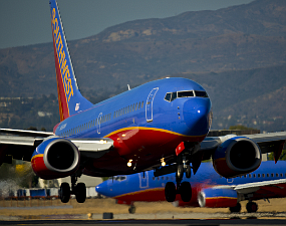 A drop in international traffic at John Wayne Airport in October was offset by service from domestic routes for an overall gain in passenger traffic for the month.
Passenger traffic at JWA rose nearly 2% to 791,710 passengers in October.
Southwest Airlines—which offers domestic flights under its own banner as well as Mexico service from JWA through subsidiary AirTran Airways—served the most passengers (325,504) during the month.
That was followed by United Airlines (142,828) and American Airlines (99,275).
International passenger traffic fell 18.1% to 25,761 for the month.
The decline owed partly to a move by Canada-based discount airliner WestJet to discontinue its seasonal service to Calgary on Oct. 28, 2012. The airline cited lackluster traffic for the route at the time. The Calgary service had been offered between April and October.
Air cargo traffic at the airport fell 27.1% from a year earlier to 1,324 tons in October.