PBS SoCal to Cancel Real Orange
Wednesday, November 20, 2013
Share this article: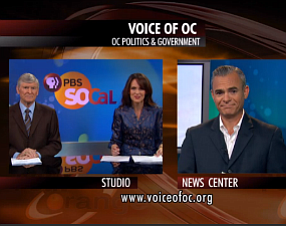 Costa Mesa-based PBS SoCal plans to pull the plug on Real Orange, its long-running, locally produced news and public affairs show.
Real Orange hosts Ed Arnold and Ann Pulice will cease to produce new episodes by the end of the calendar year, according to Stacy Shaffer, PBS SoCal's marketing manager.
Two host positions will be eliminated, along with one production job and two part-time positions. Other production staffers that have been involved with the program will be reassigned within the organization.
"The Real Orange has been an amazing experience and a great asset to our community for several years," Shaffer said. "Ed Arnold and Ann Pulice were amazing to work with and we hope to work with them in the future on different projects throughout the station. We understand it's a challenging transition for some of our colleagues but we do believe it's the right decision to help move PBS SoCal forward and strengthen the value of the programming that we provide to Southern California."