Nikon Official Camera at Disneyland Resort, Walt Disney World
Wednesday, November 20, 2013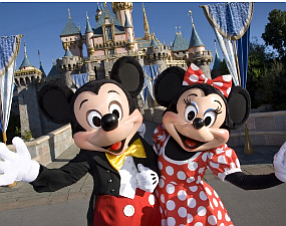 Visitors to the Disneyland Resort in Anaheim will see more of Nikon Inc.'s brand throughout its two gated parks.
The Disneyland Resort and Walt Disney World Resort in Florida said Tuesday that they struck a "multi-year strategic alliance" with New York-based digital imaging company Nikon Inc. that makes the digital imaging company the official camera for both resorts.
The Disneyland Resort in Anaheim is made up of the Disneyland and Disney California Adventure parks, three hotels and the Downtown Disney shopping and entertainment district.
The Nikon brand will now have signs at various suggested picture spots throughout the Disney parks. Photographers throughout the parks who take pictures for Disney's PhotoPass service will now use Nikon cameras and other accessories.
Nikon takes the role previously held by New York-based Eastman Kodak Co., which ended its partnership with the company last year. Kodak had been a sponsorship partner at Disneyland since the park's 1955 opening. Kodak emerged from bankruptcy in September.