Auto Club Chairman Gets Horatio Alger Award
Tuesday, November 19, 2013
Share this article: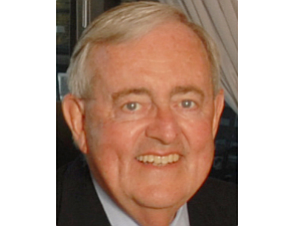 Automobile Club of Southern California Chairman Thomas McKernan has been selected to receive the Horatio Alger Award.
McKernan, who will be honored with 11 others in April, served as the chief executive of the Auto Club for 21 years before retiring last year. The Auto Club has its core operations in Costa Mesa, while its on-the-books headquarters is in Los Angeles.
The Horatio Alger Award is presented by the Horatio Alger Association of Distinguished Americans Inc., a Alexandria, Va.-based nonprofit that aims to honor "exceptional leaders [who are] committed to philanthropy and higher education, who have overcome significant personal challenges to achieve success."
McKernan grew up in Arcadia, working as he could, including jobs as a paperboy and loading trucks at a warehouse. He worked various jobs after graduating from high school and joined the Auto club in 1966 as a service representative at its Pasadena branch. It was during his early years at the Auto Club that he took evening classes at California State University, Los Angeles. McKernan earned a degree in business and information systems, an MBA in finance, and an advanced MBA from Claremont Graduate University.
McKernan moved up the ranks at the Auto Club, becoming the chief financial officer in 1985 and chief executive in 1991.
He oversaw the consolidation efforts of American Automobile Association on a national basis, as well as the launch of its insurance unit. The organization overall has tripled during McKernan's tenure to 14 million members, including 6 million or so in Southern California served by the local Auto Club.
McKernan has served on various boards, including the Los Angeles Orthopedic Hospital, where he was chairman for two years in the late 1990s. He also was chair of the Orange County Performing Arts Center between 2008 and 2011, among other volunteer efforts.
Other recipients of the 2014 Horatio Alger Award include Jerry Jones, owner and general manager of the Dallas Cowboys; Patricia Herbold, vice president of Herbold Foundation and former U.S. ambassador to Singapore; and David Cote, chief executive of Honeywell International Inc. in Morristown, N.J.