New Hyundai Sonata, Genesis Due Out Next Year in U.S.
Monday, November 18, 2013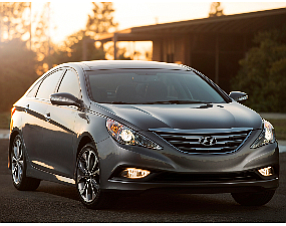 Hyundai Motor America Inc.'s parent is set to release redesigned versions of its best–selling Sonata sedan and Genesis premium sedan models by mid-2014.
Hyundai Motor America Chief Executive John Krafcik reportedly told reporters in Detroit that the new sedan designs would also be accompanied by a hydrogen-fueled Tucson crossover also due out by the end of second-quarter 2014 with a limited run of about 1,000 made through 2016 in the automaker's South Korean factory, according to reports.
The Tucson is expected to make its appearance at this week's Los Angeles auto show, which kicks off on Friday and runs through Dec. 1.

Hyundai's U.S. sales were up about 2% so far this year at the end of October to 601,773 vehicles.
Hyundai Motor America is set to move from its temporary space in Costa Mesa into its new Fountain Valley headquarters next month.