5 Honored at Family Owned Business Awards Luncheon
NEARLY 400 ON HAND AT BUSINESS JOURNAL, CSUF EVENT
Sunday, November 17, 2013
Share this article: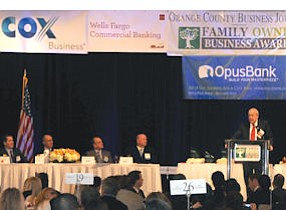 A crowd of more than 375 turned out for a Nov. 13 luncheon at the Hyatt Regency Irvine to laud five honorees as part of the 14th annual Family Owned Business awards hosted by the Business Journal and California State University, Fullerton's Center for Family Business.
Alan Gladstone, chief executive and founder of Costa Mesa-based Anna's Linens Inc., delivered the keynote address, sharing his experiences of running a family business and overcoming challenges along the way.
"I have a great deal of passion—and I know that for family-owned businesses passion is the keynote, because it's not easy, you have to persevere and make lemons into lemonade," said Gladstone, whose company is a prior Family Owned Business honoree.
This year's honorees represented a range of businesses and backgrounds, with awards coming in the following categories:
• Up & Coming: Behavioral Health Works Inc. in Garden Grove.
• Small Business: MacGillivray Freeman Films in Laguna Beach.
• Medium-Sized Business: Roger's Gardens in Corona del Mar.
• Large Business: Nektar Juice Bar Inc. in Santa Ana.
• Longevity: Dana Wharf Sportfishing and Whale Watching in Dana Point.
Profiles of each of the honorees will be profiled in the Business Journal's print edition of Nov. 25.
A special honor went to Mike Trueblood, former director of CSUF's Center for Family Business, who received a Lifetime Achievement Award from Ed Hart, who succeeded Trueblood in 2011.
---