South Coast Plaza Hosts Chinese Consul General
Wednesday, November 13, 2013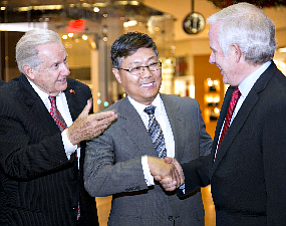 Officials with South Coast Plaza were on hand Tuesday night to welcome Consul General of China Liu Jian.
South Coast Plaza, along with the American-Chinese CEO Society, hosted the visit, which included dinner at the Capital Grille. The American-Chinese CEO Society is made up of business leaders from the U.S. and China and has offices in Los Angeles.
The Consulate General of the People's Republic of China in Los Angeles serves Southern California, the U.S. Pacific Islands, Hawaii, Arizona, and New Mexico.
The consul general ambassador position is Jian's first in the U.S. He was appointed to the role in July.
Jian got his start as a staff member of the Embassy of China in the Republic of Fiji in 1979 and has worked in Thailand, Republic of the Philippines, and Afghanistan, among other places. He most recently served as ambassador of China to Pakistan.