Local Theme Parks Bring Big Gains for Parent Cos.
Friday, November 8, 2013
Share this article: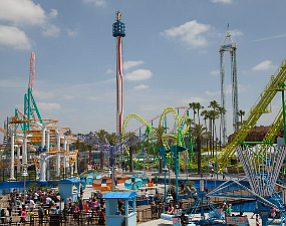 The parents of several local amusement parks saw strong earnings in their recently ended quarters as gains in guest spending and attendance helped boost revenue.
Burbank-based Walt Disney Co. owns the Disneyland Resort in Anaheim, which includes the Disneyland and Disney's California Adventure theme parks, three hotels and the Downtown Disney shopping and entertainment district.
For the quarter ended Sept. 28, Walt Disney Co. said revenue for its Parks and Resorts division rose 8% from a year earlier to about $3.7 billion. It does not break out the earnings or attendance for individual parks.
Income for the division in the September quarter grew 15% to $571 million.
Increased guest spending at the Disneyland Resort, along with higher attendance at the Walt Disney World Resort in Florida, helped the gains.
Total revenue for Walt Disney in the September quarter increased 7% to nearly $11.6 billion. Net income rose 12% to approximately $1.4 billion.
The September quarter capped off a record year for the company's revenue and net income.
Meantime, the parent of Knott's Berry Farm in Buena Park reported record results for the quarter ended Sept. 29.
Sandusky, Ohio-based Cedar Fair Entertainment Co.'s net revenue increased 7% from a year ago to $592.1 million. The company attributed the growth to increased guest spending and attendance.
The company said its parks business is set to see its fourth straight record year, with net revenue through Nov. 3 up 6% and comparable park attendance up 2% from the year-ago period.
Cedar Fair said it now expects to reach its goal of adjusted earnings before interest, taxes, depreciation and amortization of $450 million earlier than its original 2016 target.
Cedar Fair's portfolio consists of 15 amusement or water parks and five hotels. Its local properties include Knott's, Knott's Soak City and the Knott's Berry Farm Resort Hotel.