Microsemi September Quarter Earnings Meets Street, Outlook Misses
Thursday, November 7, 2013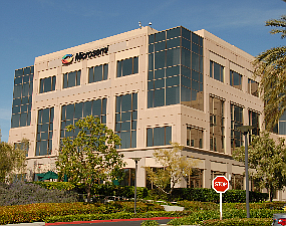 Aliso Viejo-based chipmaker Microsemi Corp. on Thursday reported September quarter earnings in line with Wall Street expectations and provided a revenue and profit outlook in the current quarter below estimates.
The company posted sales of $250.4 million in the recently ended quarter, down 4.8% from a year ago.
Adjusted profits topped $49.1 million, down 5.2% from a year earlier.
The company said gross margins, a key metric for assessing technology companies, was flat from the June quarter at 57%.
Revenue in the 12 months through September, the end of its fiscal year, came in at $975.9 million, down 3.6% from the same period a year ago.
The 12-month revenue figure comes as a bit of a disappointment as Chief Executive James Peterson has long touted the $1 billion revenue figure as a company goal, particularly after it closed a $633 million hostile takeover of Canadian chipmaker Zarlink Semiconductor Inc. two years ago.
Microsemi, citing "uncertainty" stemming from the recent government shutdown and "ongoing customer cautiousness," provided a sales and profit outlook for the current quarter below Wall Street expectations.
The company projected revenue in the December quarter between $237.9 million and $242.5 million.
Analysts on average are forecasting sales of $258.2 million.
Adjusted profits are projected between $39.4 million and $42.8 million.
Wall Street is expecting an adjusted profit of about $52.1 million.
Microsemi shares were down 3.7% at the close of trading Thursday with a market value of about $2.25 billion.