Blizzard Loses more Warcraft Subscriptions
Wednesday, November 6, 2013
Share this article: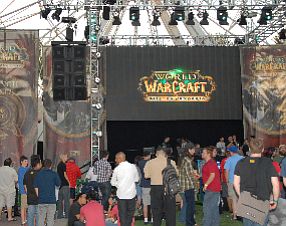 Irvine-based video game maker Blizzard Entertainment Inc. saw sales and operating income sink in the third quarter as it lost about 100,000 World of Warcraft subscribers.
Blizzard, a unit of Santa Monica-based Activision Blizzard Inc., posted revenue of $282 million in the recently ended quarter, down 32% from a year earlier.
The company reported an operating profit of $88 million, down 48% from a year ago.
Blizzard ended the third quarter with about 7.6 million World of Warcraft subscribers.
It's common for Blizzard to lose subscribers during long breaks between game releases, but that doesn't tell the entire story.
Warcraft subscriptions have dropped by more than 2.6 million in the last two years as some gamers opted for other entertainment options.
Mists of Pandaria, the latest version and fourth installment of the franchise, was released more than year ago. The game didn't garner as much interest as previous WoW releases, but still posted impressive sales figures with more than 2.7 million units sold in its first month.
The fantasy game remains the top multiplayer online role playing game.
Blizzard's customers pay about $40 for WoW and $15 a month to play it online.
Its StarCraft II: Heart of the Swarm was the top selling PC game for the first nine months of the year.
Blizzard's lackluster performance didn't derail a strong third quarter from parent Activision as its Skylanders Giants and Call of Duty: Black Ops II games are among the top five selling titles this year.
The company posted an adjusted profit of $8.9 million on $657 million in revenue, beating Wall Street expectations on both targets.
Activision raised its 2013 sales and profit outlook, but lowered guidance on both targets for the current quarter, as gamers await new consoles released by Microsoft and Sony this holiday season.
It now projects sales to hit $2.21 billion, down from $2.25 billion from the company's August guidance and below Wall Street expectations of $2.29 billion.
Adjusted profit projections were lowered to about $8 million, down from $8.5 million to $8.8 million, the latter figure at analyst estimates for the current quarter.
The lowered guidance prompted investors to push down Activision shares nearly 2.5% in afterhours trading to a market value of about $18.5 billion.

Activision in its earnings report highlighted the release of several games in October, including Skylanders SWAP Force, SpongeBob SquarePants, Teenage Mutant Ninja Turtles and Angry Birds Star Wars.
Earlier Wednesday the company said Call of Duty: Ghosts has already raked in more $1 billion in retail sales, a day after its highly anticipated release.
Wednesday's earnings report marked a new era for Blizzard and Activision, which regained independence from French conglomerate Vivendi SA last month.
Activision acquired some 429 million shares from Vivendi for about $5.8 billion, while an investment group led by Activision Chief Executive Bobby Kotick and Co-Chairman Brian Kelly bought 172 million Activision shares from Vivendi, roughly a 24.7% stake, for about $2.3 billion.
Vivendi now owns about 12% of the company.