Automakers See October Sales Rise
Monday, November 4, 2013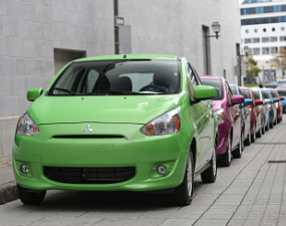 Automakers here and nationally bounced back last month from a weak September for vehicle sales.
The September drop came in part to a shift in Labor Day sales, some of which were accounted for in August.
Most automakers here came back from the declines last month.
Cypress-based Mitsubishi Motors North America Inc. saw the largest jump in its October vehicle sales.
Mitsubishi sales last month grew 19.4% compared to a year earlier, to 4,972 vehicles.
The automaker is in the midst of rolling out its Mitsubishi Mirage subcompact car to U.S. auto dealers. This month's numbers for Mitsubishi are expected to receive a boost from TV advertising that starts this month for the company's Outlander and Outlander Sport crossover utility vehicles.
Costa Mesa-based Hyundai Motor America Inc. sold 53,555 vehicles in October, up 7% from a year earlier.
Irvine-based Mazda North American Operations saw sales rise 6% from a year earlier to 19,738 vehicles.
Kia Motors America Inc. of Irvine saw sales fall 6.4% to 39,754 vehicles.
Vehicle sales nationally were up 10.6% for the month to 1.2 million, according to New Jersey-based Autodata Corp.'s Motor Intelligence.
The monthly performance put vehicle sales nationally on pace to reach about 15.2 million this year.