Midday Stock Roundup
Friday, May 31, 2013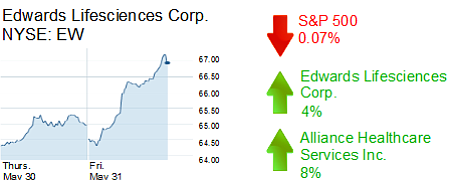 The S&P 500 fell 0.07% to 1,653.29 in afternoon trading Friday.
The Dow Jones industrial average was up 0.05% to 15,332.36, while the Nasdaq was up 0.09% to 3,494.59.
The yield on a 10-year Treasury bond rose 2.64% to 2.18%.
The price of gold was off 1.32% to $1,393.40 per ounce.
Irvine heart valve maker Edwards Lifesciences Corp. rose about 4% to $67.26. Healthcare investment bank Leerink Swann said a warning letter sent to Edwards earlier this week from the Food and Drug Administration related to its Utah plant isn't expected to impact the company's growth. Edwards had a recent market value of $7.6 billion.
Newport Beach-based medical imaging company Alliance Healthcare Services Inc. rose about 8% to $16.54 after announcing the refinancing of its senior secured term loan. Alliance, which had a recent market value of $171.59 million, is up about 28% so far this week.