Tilly's Beats on Q2 Guidance, Announces CFO Retirement
Wednesday, May 29, 2013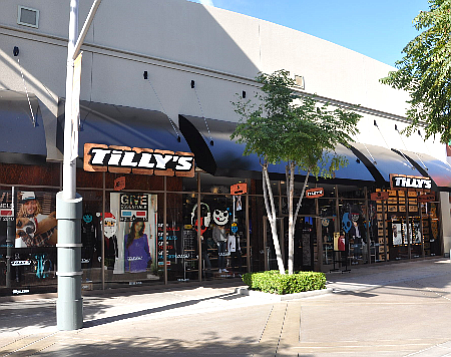 Irvine-based Tilly's Inc. topped Wall Street's expectations on its current quarter guidance and results for the quarter ended May, sending shares up slightly in after-hours trading Wednesday.
The action-sports retailer, which operates 175 stores, announced its quarterly results after market close.
Tilly's said it expects net income of $3.2 million to $3.8 million for the current quarter.
That's up from the $2.6 million the company saw in the year-ago period and above the $2.5 million analysts expected.
Tilly's did not provide revenue guidance for the current quarter.
Analysts expect net sales of $123.18 million.
The company said same-store sales are expected to be in the range of flat to low-single digit growth.
Shares of Tilly's were about flat in midday trading Thursday to a market value of $453.04 million after trading up about 1.5% in after-hours trading Wednesday.
The guidance followed the company's May quarter results, which came in above analyst expectations.
Tilly's saw net income of $2.3 million for the May quarter, up from the $1.96 million analysts expected.
The company saw net sales up 13% to $109.1 million during the May quarter, and same-store sales up 1.1%.
That beat consensus estimates of $107.2 million.
Tilly's said Senior Vice president and Chief Financial Officer Bill Langsdorf will retire later this year and is expected to stay on as CFO until his replacement is found.