Midday Stock Roundup
Tuesday, May 28, 2013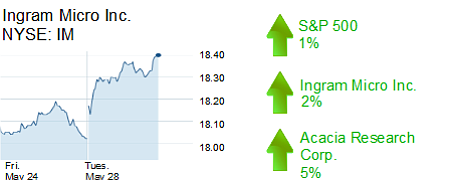 The S&P 500 rose 1% to 1,666.08 in afternoon trading Tuesday.
The Dow Jones industrial average was up 1.07% to 15,466.33, while the Nasdaq was up 1.17% to 3,499.66.
The yield on a 10-year Treasury bond rose 5.12% to 2.11%.
The price of gold fell 0.10% to $1,385.20 per ounce.
TECHNOLOGY
Santa Ana-based Ingram Micro Inc. was up about 2% to $18.40, for a market value of $2.8 billion. Ingram, which distributes technology products, computers and consumer electronics, said it will now carry and sell Samsung smartphone and tablet accessories in the U.S.
Shares of Newport Beach patent licensor Acacia Research Corp. rose about 5% to $24.75, for a market value of $1.22 billion. Acacia said its subsidiary, Business Process Modeling Solutions LLC, reached a license agreement with International Business Machines Corp.
APPAREL
Huntington Beach-based Quiksilver Inc. rose about 3% to $7.99, for a market value of $1.33 billion. The company announced on Friday the hiring of its first-ever chief marketing officer, completing a series of executive hires and promotions since the start of the year that have restructured the action sports apparel company's senior leadership team under Chief Executive Andy Mooney.