REAL ESTATE: BUYERS WILL KEEP PROPERTIES AS THEY ARE
Platinum Triangle Properties Sold to Industrial Users
Sunday, May 26, 2013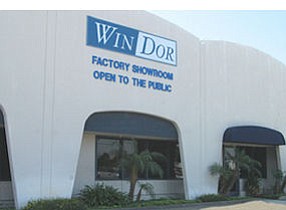 An industrial park near Angel Stadium that ambitious office and apartment developers have eyed for nearly seven years has a pair of new owners with more modest goals in mind.
Two buildings at Stadium Business Park on East Orangewood Avenue in Anaheim, which house a manufacturing facility and factory showroom for window and door maker WinDor Inc., recently sold in separate transactions for about $8.3 million combined.
The sales appear to take a significant Platinum Triangle property off the market for potential redevelopment. The 820-acre, largely industrial area surrounding Angel Stadium has been considered for housing, office and retail development in recent years.
The recently sold buildings, together totaling about 75,500 square feet, will be kept largely as-is by their new owner-users, a sign maker and a tile importer, according to David Newton, a principal with the Orange office of brokerage Lee & Associates who represented WinDor's owners in the sales.
WinDor, which has been at the Anaheim location since 2002, is on the lookout for new space to lease in the area in the 60,000-square-foot to 75,000-square-foot range, Newton said.
The company is leasing back the properties it just sold until it finds new space, said Newton, who worked with colleagues Mark Larson and Allen Buchanan on the sale.
Marble Express Inc., a Las Vegas-based importer of marble and stone products, recently closed on the purchase of the larger of the two WinDor properties, a 56,840-square-foot building at 2210-2220 E. Orangewood Ave. The building sold for a little less than $6.1 million, or about $106 per square foot.
Marble Express already owns a property on East Ball Road in Anaheim.
The company is expected to lease out that building, which runs about 47,000 square feet, once it takes over the Orangewood Avenue space.
Signage Solutions Corp., an Anaheim-based maker of signs for stores, restaurants, hotels and other entertainment-related companies, bought the smaller of the two Stadium Business Park properties, an 18,618-square-foot building at 2231 S. Dupont Drive, just south of the main WinDor facility.
The Dupont Drive building sold for about $2.2 million, or roughly $120 per square foot.
Signage Solution's headquarters is currently in a 13,400-square-foot building it owns on Allec Street.
Apartment Boomlet
The 3.8-acre site of the two buildings was initially eyed for an office development during the last commercial real estate boom.
In 2006, Irvine-based Steadfast Cos. proposed building a 22-story office there with nearly 590,000-square-feet of space. At 320 feet, the building was initially envisioned as the tallest office tower in Anaheim.
Prev Next