REDOS, NAME CHANGES, NEW SERVICES POLISH IMAGES
Hotels, Freer in Economic Recovery, Open Wallets
Sunday, May 26, 2013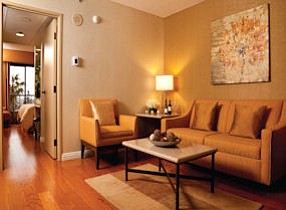 Avenue of the Arts Wyndham Hotel is a bit of a mouthful, but after years of operating as the Wyndham Orange County, the new name and plum-colored logo are intended to exude an upscale, boutique-like quality.
The image changes top off a two-year, $17 million renovation of the Costa Mesa hotel that ended in April.
Its owner, Rosanna Inc., originally planned to take the hotel independent but ultimately stuck with the Wyndham brand, though "we wanted to be something above and beyond," said Marketing Manager Kenneth Chouinard.
Guest rooms got updates with bamboo floors, and a lobby redo was completed in March, with the new Silver Trumpet Restaurant and Bar opening that same month.
"When guests open the room, we get a really big response from people," Chouinard said of the changes, "because it's not something they usually expect or get."
Recent guests of the hotel pointed out the redone rooms and service on travel review and information site TripAdvisor, one calling the remodel "over the top" and the staff "outstanding."
Recovery Spending
Hotels throughout the county are looking at property renovations and redesigns to keep guests coming back and to attract new ones as the economic recovery continues, albeit at a slower pace than some would like.
Optimism
Monty Criss, director of sales at the DoubleTree by Hilton Santa Ana-Orange County Airport in Santa Ana, sees continued economic recovery for his hotel and the rest of the local market this year.
"I'm very optimistic about the climate in and around Orange County," he said. "It's probably not as fast as everybody would like, but it seems to be a steady pace, with the momentum picking up."
The DoubleTree, like the Avenue of the Arts Wyndham, has been through a multiyear property refresh that began a couple years ago with new signage on the exterior of the hotel.
A $500,000 lobby facelift that included new carpets, wall coverings, art and furniture rolled out last year to give it a "contemporary feel," Criss said.
A Starbucks is expected later this year, and the hotel recently renamed its restaurant Meritage, with a full renovation and a new California fusion menu planned for next year.
Hotel refreshes have taken hold of the county's hotel inventory over the past few years, with little new development large enough to carve out a space on the Business Journal's annual ranking of the 50 largest hotels.
The biggest here combined for a total of 21,190 rooms, about the same as a year earlier, according to this week's list. That's a continuation of the trend seen in rankings of the past few years.
Prev Next