Billabong Explores West 49 Sale
Thursday, May 23, 2013
Share this article: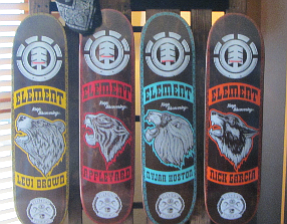 Australia-based Billabong International Ltd. is looking to sell its Canadian retail chain West 49 separate from the rest of its operations, according to a report.
The deal would include West 49, which has 70 stores, along with six stores operating under the Amnesia and Element brands, according to a report from The Australian.
A spokesman for Billabong International in Australia could not immediately be reached for comment Thursday morning.
Billabong International is the parent of Irvine-based Billabong USA, whose office campus on Waterworks Way also serves as the headquarters for some of the company's other brands, including Element, VonZipper and Honolua.
The news comes as trading in shares of Billabong International remain on hold as potential sale talks drag on for the company. An exclusivity period with Billabong Americas President Paul Naude, who has temporarily stepped away from the position to explore a possible sale, ended earlier this month.
The consortium led by Naude also includes New York private equity firm Sycamore Partners, with the group's last conditional offer for the company coming in at roughly $299 million.
The company's shares last traded on the Australian Securities Exchange at $0.47 for a market value of $229.86 million.
Billabong acquired West 49, which counted 138 mall stores in Canada at the time of the deal, for $93 million in 2010. The bidding for West 49 had briefly pitted Billabong against action sports retailer Zumiez Inc. of Everett, Wash. Zumiez later walked away from talks after it was unable to reach an agreement on a review of West 49's books.
The West 49 deal was part of a plan to bolster Billabong's retail business, but the company's store count swelled just as global economic headwinds took hold.
A turnaround plan outlined last summer calls for the shuttering of some stores along with inventory reduction and more operational efficiencies.